SUICIDAL IDEATION IN DEPRESSED PATIENTS AND THERAPEUTIC ROLE OF VORTIOXETINE: SECONDARY ANALYSIS OF A LARGE PROSPECTIVE STUDY
Prof Nasim Chaudhry

Pakistan Institute of Living and Learning

Tayyeba Kiran

Pakistan Institute of Living and Learning

Ameer B Khoso

Pakistan Institute of Living and Learning

Zaib un Nisa

Pakistan Institute of Living and Learning

Prof Ghullam Rasool

Balochistan Institute of Psychiatry and Behavioral Sciences

Prof Imtiaz Dogar

Faisalabad Medical University

Dr. Khalid Mahmood

Syed Usman Hamdani

Dr. Ali Bux Rajper

Prof Fareed Minhas

Prof Imran B Chaudhry

Ziauddin University Hospital
Abstract
OBJECTIVES
To explore the association of different variables with suicidal ideation and the role of vortioxetine in managing suicidal ideation in depressed patients in Pakistan.
STUDY DESIGN
This is a secondary analysis of a large, multi-centre, non-interventional, prospective longitudinal study with patients who were prescribed Vortioxetine.
PLACE AND DURATION OF THE STUDY
The main study was conducted in 16 psychiatry outpatient clinics in 8 cities across Pakistan.
SUBJECTS AND METHODS
A total of 498 depressed patients aged 18- 65 years participated in the study. Suicidal ideation was measured using item # 9 of the Patient Health Questionnaire (PHQ-9). Participants were assessed at baseline, 1 week, 1-month and 3-month after treatment initiation.
RESULTS:
There was statistically significant reduction in reporting of suicidal ideation from 80% at baseline to 13% at outcome assessment. There was significant positive correlation between suicidal ideation and cognitive dysfunction on Perceived Deficits Questionnaire (PDQ) and suicidal ideation and depression scores on PHQ-9. There was a statistically significant difference between those who reported suicidal ideation and those who did not report suicidal ideation on the CGI-severity scale both at baseline and at 3-month outcome assessment.
CONCLUSION
Suicidal ideation is common in depressed patients and this study demonstrated that suicidal ideation was reduced significantly with Vortioxetine treatment.
KEY WORDS
Suicidal ideations, Vortioxetine, Depression.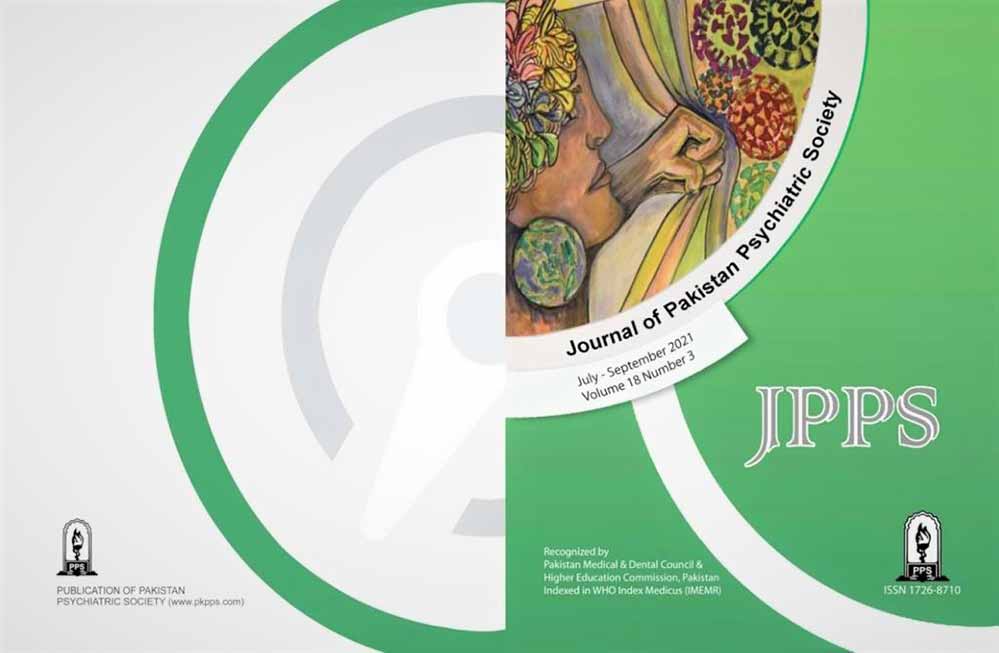 How to Cite
Chaudhry, N., Kiran, T., Ameer B Khoso, Zaib un Nisa, Rasool, G., Dogar, I., Mahmood, K., Hamdani, S. U., Rajper, A. B., Minhas, F. A., & Imran B Chaudhry. (2022). SUICIDAL IDEATION IN DEPRESSED PATIENTS AND THERAPEUTIC ROLE OF VORTIOXETINE: SECONDARY ANALYSIS OF A LARGE PROSPECTIVE STUDY. Journal of Pakistan Psychiatric Society, 18(3). Retrieved from https://jpps.pk/index.php/journal/article/view/118