PSYCHOSOCIAL DETERMINANTS OF ACADEMIC PERFORMACE AMONG UNIVERSITY STUDENTS
Hira farhan

university of management and technology

Talat Sohail
Abstract
OBJECTIVE
The aim of the study was to investigate and examine the social and psychological factors which are influencing the student's academic performance. The study focuses on opinions of undergraduate and graduate students on psychosocial factors which are influencing their academic performance.
STUDY DESIGN
The qualitative research design was used in the present research.
PLACE AND DURATION OF STUDY
The present study was conducted in Lahore, Pakistan from December-September, 2020.
SUBJECTS AND METHODS
Purposive samples of 35 female university student's age range 18-25years from Lahore College for Women University were interviewed. Focus Group Discussions (FGD) were employed as a tool for data collection. Five Focus Group Discussion (FGD) were conducted. All the collected information was than analyzed and interpreted. Thematic Analysis (TA) research was used.
RESULTS
Results of thematic analysis showed that financial issues, mobile misuse, Teacher student relationship, Role of family, Peer group, Environment, Stress, Child parent relationship, learning issues and Distance were the most frequently occurring psychosocial determinants which were influencing the academic progress of university students.
CONCLUSION
Based on the above-mentioned result it can be concluded that student's educational progress is determined by psychosocial factors such as financial issues, mobile misuse, roles of family, peer group, teacher student relationship, parent child relationship, and environment, stress, distance and learning issues.
KEYWORDS
Psychosocial, Academic Performance, Focus Group Discussions (FGD), Thematic Analysis (TA)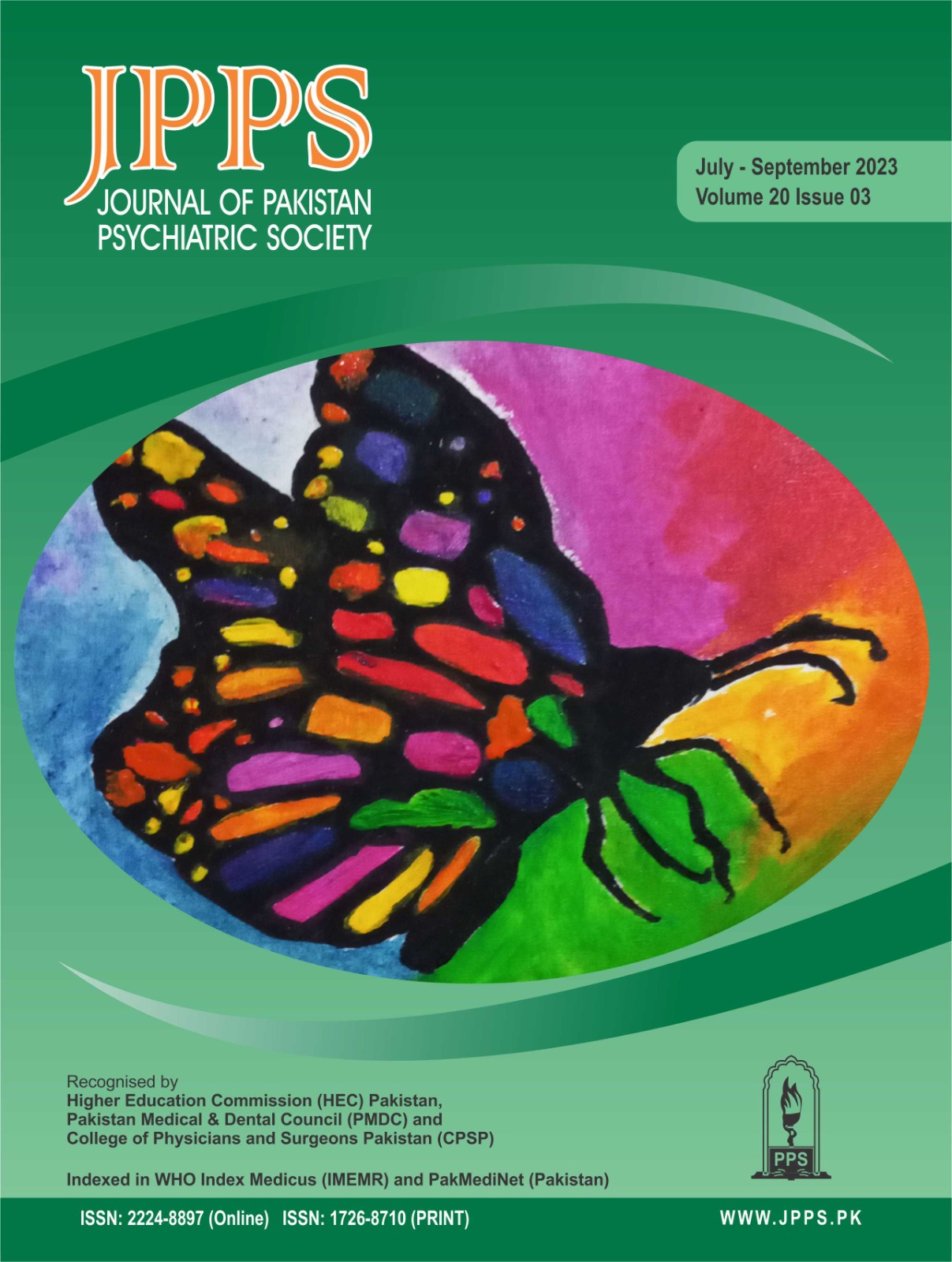 How to Cite
farhan, H., & Sohail, T. (2023). PSYCHOSOCIAL DETERMINANTS OF ACADEMIC PERFORMACE AMONG UNIVERSITY STUDENTS. Journal of Pakistan Psychiatric Society, 20(03). Retrieved from https://jpps.pk/index.php/journal/article/view/245