POST TRAUMATIC STRESS DISORDER AS ONE OF EMERGING PSYCHIATRIC CONSEQUENCES OF COVID-19
Hafiz Shafique Ahmed

Assistant Professor Psychiatry Department of Psychiatry & Behavioral Sciences Nishtar Medical University Multan

Naeem Ullah Leghari

Associate Professor & Chairperson, Dept of Psychiatry, Nishtar Medical University, Multan

Khizra Iqbal

Clinical Psychologist Department of Psychiatry & Behavioral Sciences, Nishtar Medical University, Multan

Owais Kreem

Assistant Professor Psychiatry Department of Psychiatry & Behavioral Sciences Nishtar Medical University Multan

Musarrat Jahan

Senior Registrar, Bahawalpur Victoria Hospital, Bahawalpur.

Saima Dastgeer

Assistant professor Psychology Govt. Graduate college of Home economics Multan
Abstract
Objective: In this study, we aimed to determine the associated factors in prevalence of PTSD among patients with COVID-19 who were treated.
Study Design: Cross-sectional study
Place and duration of the study: the study was conducted in medical OPD of DG khan from August, 2021 to December, 2021.
Subjects and method:  120 PTSD patients were approached through convenient sampling technique. PCL-5 scale was used to assess severity of PTSD symptoms. SPSS-22 was used to analyse the data.
Results: showed the severity of PTSD symptoms, in the patients re-experiencing symptoms were quite a bit  31.7%, avoidance were extreme 30%, symptoms of negative alteration in cognition and mood were moderate 37.5% in most of the patients and hyperarousal was quite a bit severe 37.5% in most of the patients. 
Conclusions
the findings confirm that PTSD symptoms were moderate to severe including the re-experiencing, avoidance, alteration in mood and cognition and hyperarousal in most of the participants who were exposed to COVID-19 symptoms.  There should be some preventive measures and interventions to overcome and protect individuals from PTSD symptoms.
Key Words: COVID-19, Post-traumatic Stress Disorder, Eye witnessed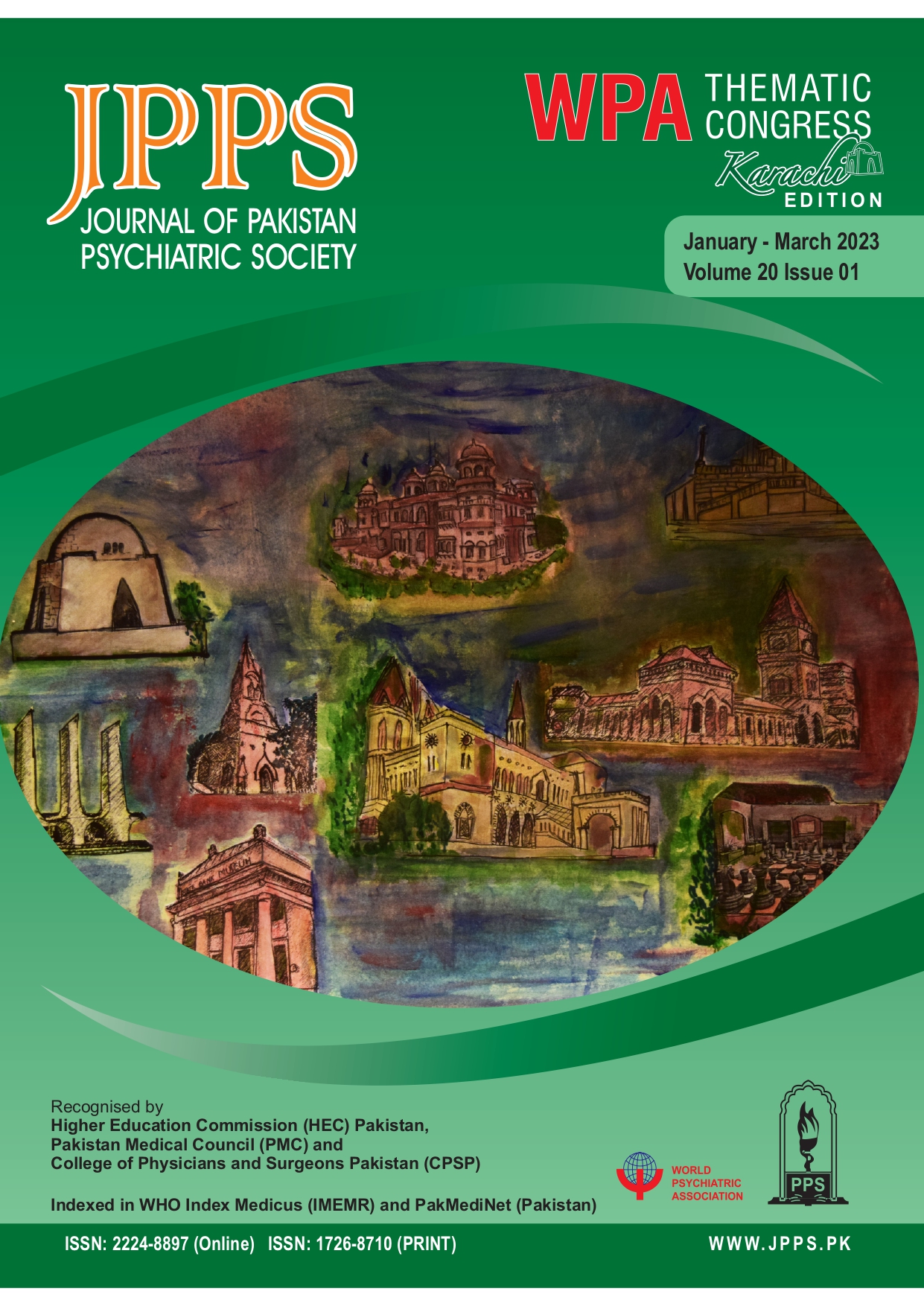 How to Cite
Ahmed, H. S., Leghari, N. U., Iqbal, K., Kreem, O., Jahan, M., & Dastgeer, S. (2023). POST TRAUMATIC STRESS DISORDER AS ONE OF EMERGING PSYCHIATRIC CONSEQUENCES OF COVID-19. Journal of Pakistan Psychiatric Society, 20(01). Retrieved from https://jpps.pk/index.php/journal/article/view/215